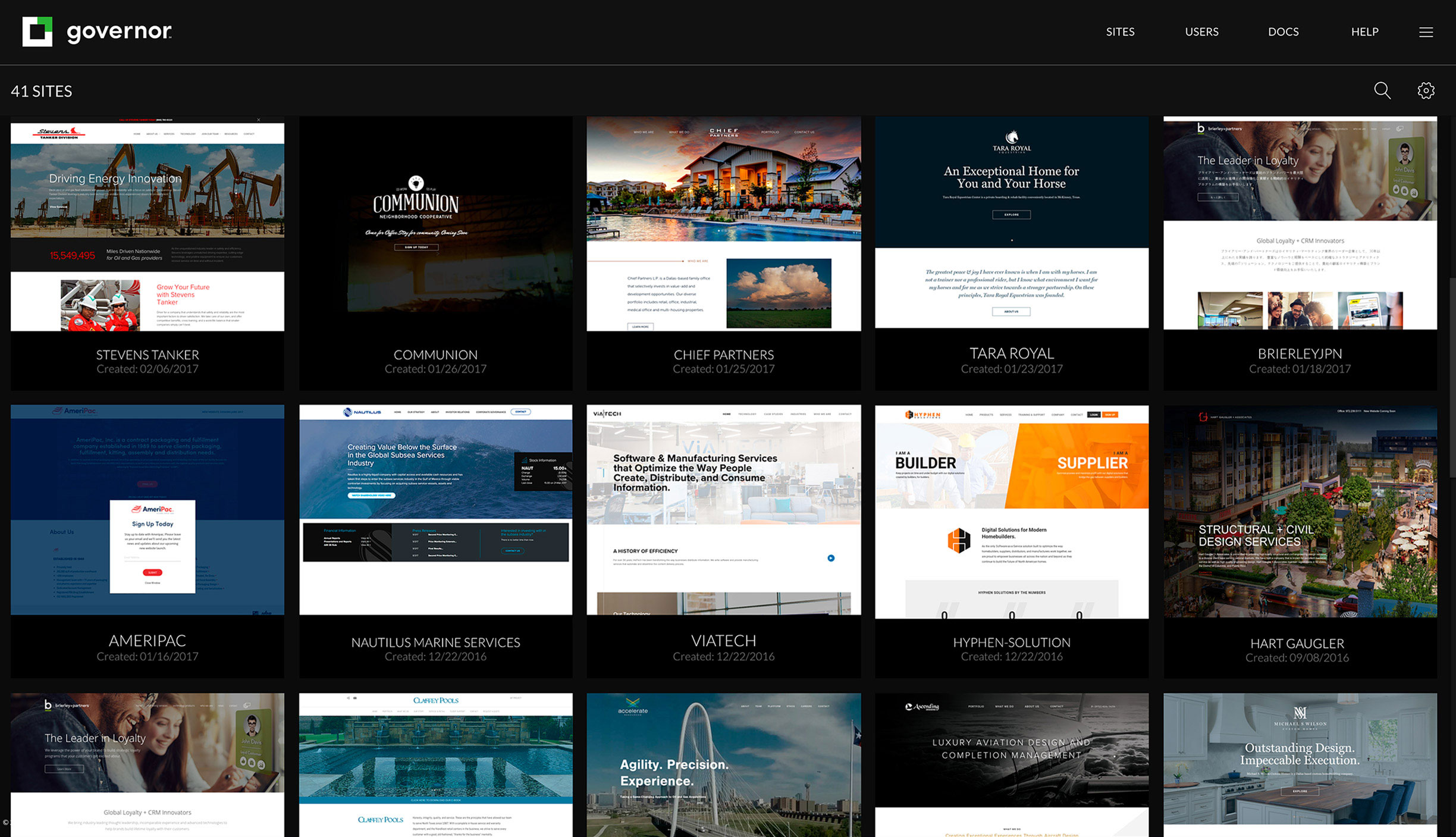 robust functionality delivered in one platform.
The tools and features your team needs to deliver faster.
Increase efficiencies of manpower and resources with the features that are offered through our platform.
learn more
feature presentation
Governor provides cutting edge features to our clients which gives them the ability to consistently improve and scale their business models.
cloud collaboration

Up until this point, administrators and dev teams have had to manage users and user access on a site-by-site basis, even if multiple sites had the same users. That process is cumbersome and inefficient, and Governor has done away with it.

From the same system-wide site dashboard, administrators can view and manage users across their entire Governor ecosystem. That means they can grant and restrict access and privileges to anyone across all sites from a single location.

multi-site dashboard

Governor's dashboard creates a singular entry point to all of your websites, with single-sign-on accounts for your team and your clientele.

Whether you're managing a couple of websites or thousands of websites, you can manage them all here. The design and interface are beautifully executed, and you can rest assured that your clients will understand its use from day one.

framework agnostic

When developing Governor, it was important to us that we didn't put any undue restrictions on the website creation and management processes. Why reinvent the wheel when developers, agencies, and brands have quality frameworks that they know and love?

To that end, Governor is completely framework friendly. You can easily utilize your favorite front-end frameworks, scripts, CSS files, or shims; such as Bootstrap, Foundation, and MaterializeCSS. Simply upload your source files into Governor, and you're ready to go. Simple as that.

intuitive templating system

A core feature of Governor is the easy-to-use templating engine. It uses the proprietary Governor tagging system called GovTags, which are easy to learn and are powerful enough to get the job done right in record time.

You can quickly enable Governor back-end controls, define data structures, and empower editors to build beautiful content for your websites using GovTags. GovTags play nice with any framework, and follow standard HTML syntax.

system-wide user directory

Easily manage all your users in one place, and make on-boarding and off-boarding a breeze.

Manage everyone involved with any of your Governor projects from one dashboard. Easily grant and restrict access and privileges to anyone across all sites.

streamlined SEO

In today's digital marketplace, there are few things more valuable than search results page real estate. Organic SEO rankings can't be bought, they can only be earned. Governor is here to make that easier.

Governor handles search engine optimization basics on its own, on the fly, so you don't have to. Each of the optimizations Governor makes is based upon top search engine requirements and best practices.

white labeling

Whether you're an agency or a brand, you have the ability to white label Governor for your users with your own custom brand standards.

Functionality & user experience won't change, so your audience will experience the excellent Governor interface with your name on it.

powerful blogging tools

Governor's cloud-based blogging platform gives you, your team, and your clients the tools necessary to let your thoughts and marketing ideas hit the screen.

Blogging and content creation are central to SEO health and improved rankings. With the Governor blog platform, it's never been easier to become a thought leader in your industry.

engaging UI

The Governor interface is one you'll be proud to show off. If you're operating a web services agency, you'll know just how rare that is.

From the dashboard through to the CMS functionality, the organization of Governor is such that it's natural and very easy to teach. For the first time, your clients and team members will actually love their CMS experience, and they'll spend less time asking for agency assistance.

comprehensive editing controls

An extension of the overall user interface, Governor's powerful site editing tools are as easy to use as they are functional.

The text and image editing tools make managing content simple. No prior web experience is necessary, you simply input the content where you want it. Governor takes care of the rest. What you see is what you get.

Focus on what you do best, and let Governor handle the rest. These maintenance issues are also potential security issues, and by letting Governor automate or eliminate these tasks, your sites are more secure than ever, without requiring any outside assistance.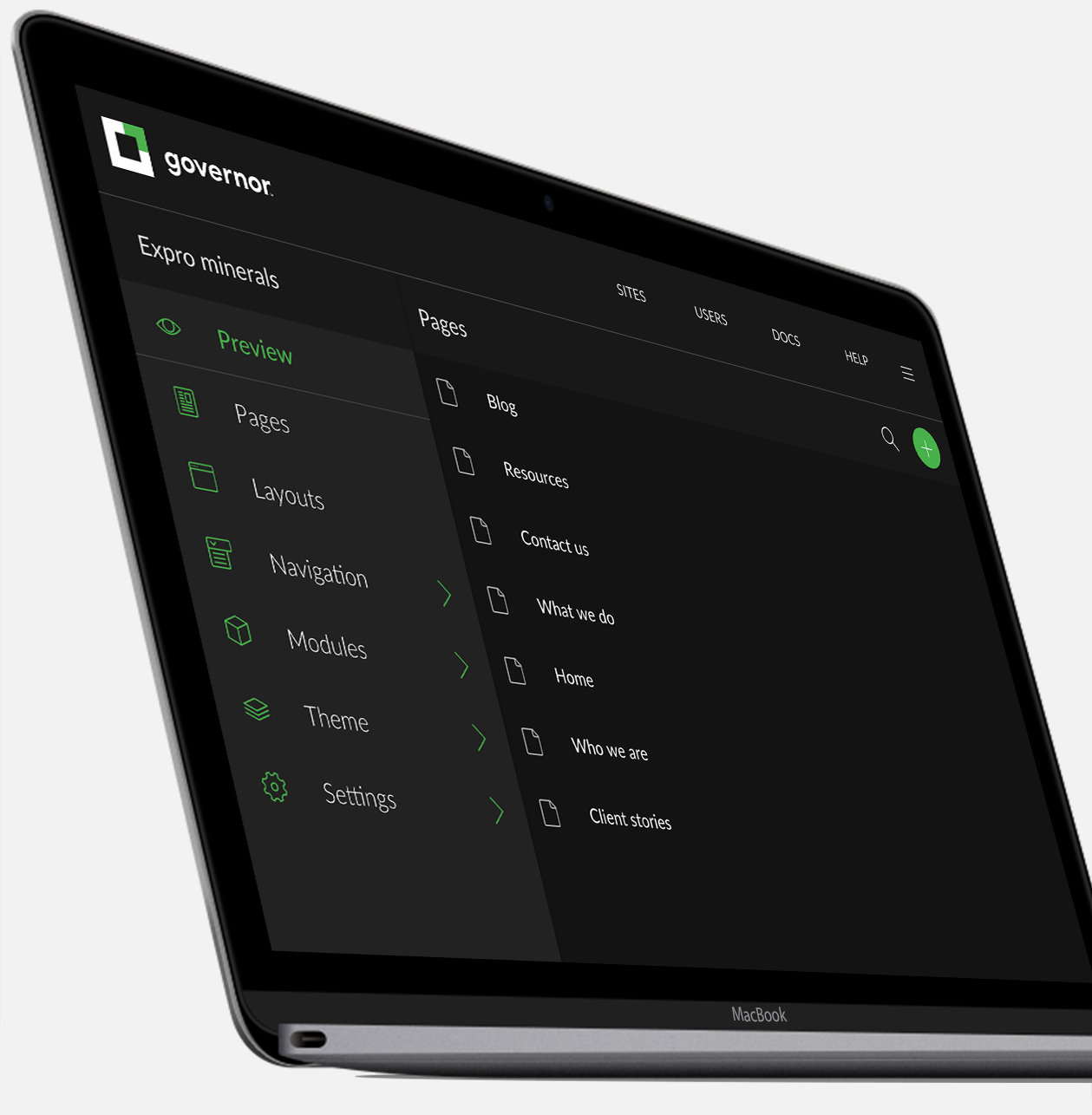 a simple and powerful interface
Governor's dashboard and editing functionality is organized in a way that is intuitive to use. For the first time, you and your customers will actually love the editing experience.
Sign up Free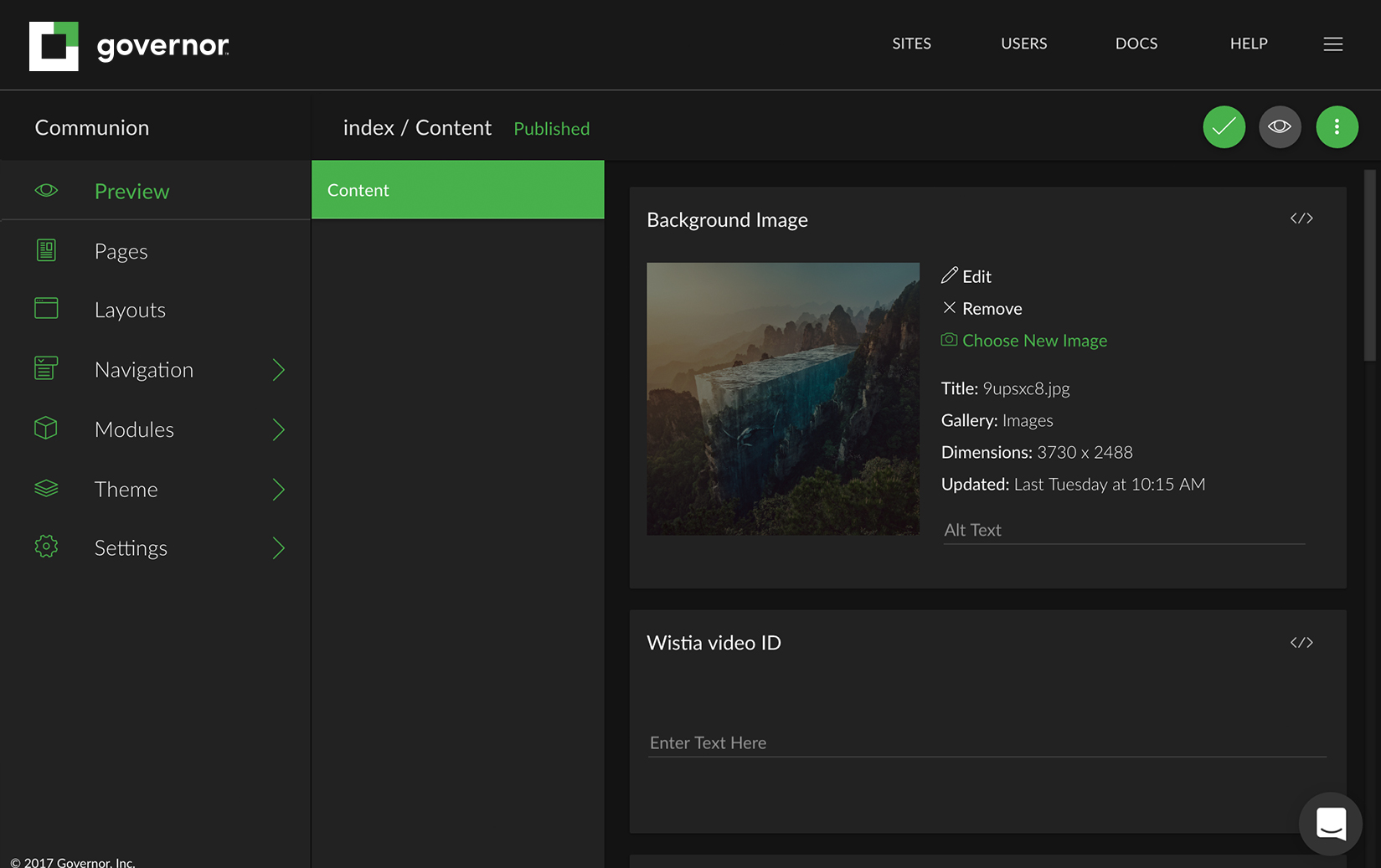 the sky's the limit when
governor is your platform
Easily utilize your favorite front-end frameworks, scripts, CSS files, or shims, upload your source files into Governor and and you're ready to go. Governor cuts 75% of your development load, creating better products and increased profits.
expand the platform to suit your needs
Extend Governor functionality using modules. Or leverage our robust API to build, expand, and deploy your own modules. Install the modules and controls you create right inside your Governor projects to start building more efficiently.
seo module

The SEO Module gives you global access to all the SEO settings per page across each of your projects. From one area you able to quickly and easily manage all page settings and meta data, as well as handle redirects.

Media Module

With our Adobe Creative Cloud powered editor and intuitive gallery system. The Media module allows content editors to quickly and easily Add, Edit, Curate, and Apply Media to your site.

Blog Module

Our Blog module makes managing blogs a breeze. With a beautiful blogging interface, scheduled posts, powerful SEO controls, and flexible Templating. Developers, Content Creators, and Marketers alike will love building and managing Blogs on Governor.

Collections Module

Our collections module gives Developers the power to describe and re-use D.R.Y data models simply by tagging Governor Templates. This means front end developers can build rich and highly complex reusable datasets without the pain of back end development.

Rewrites Module

Our Rewrites Module makes Rewrites and Redirects painless. While our centralized grid interface makes it easy to add and manage your rewrites and redirects directly in the app. Our CSV and JSON import feature ensures you can quickly apply external lists with the press of a button.
works with all of your favorite tools
take the stress out of building & managing websites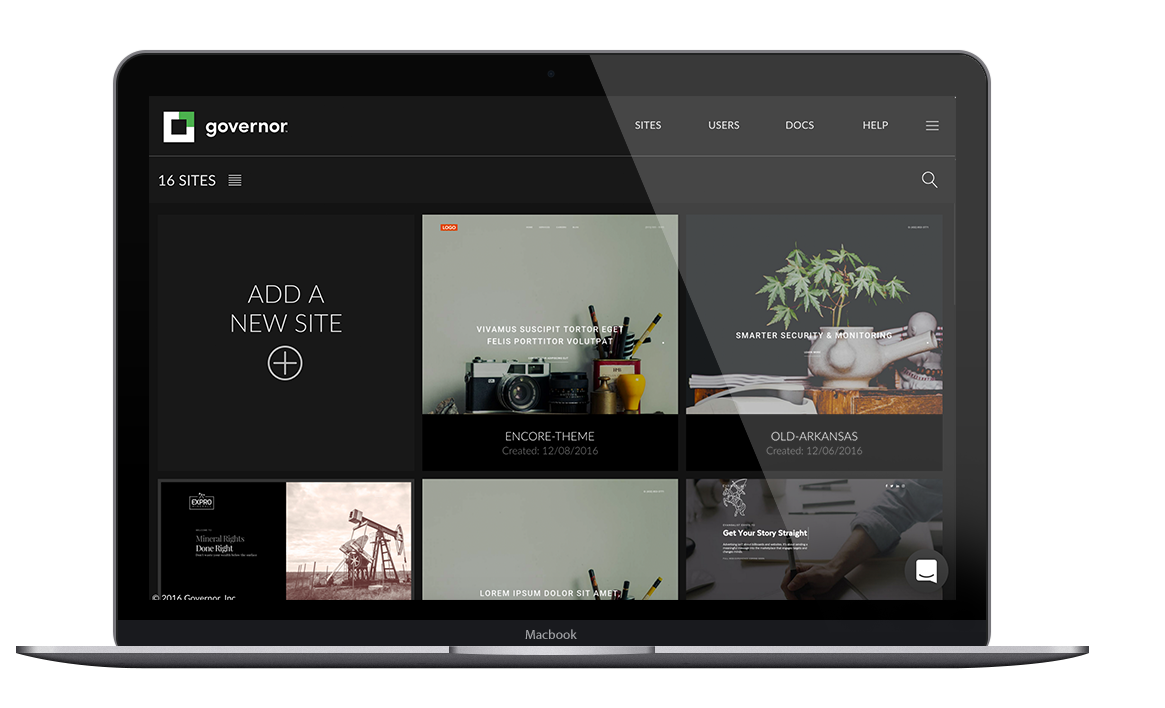 Schedule a Demo
time to start governing
Join thousands of web professionals and brands electing Governor.